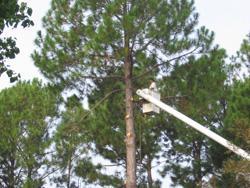 We have an expert staff of experienced arborists, ready to help you with any tree care service you might need. From emergency tree removals to pruning, chipping and mulching, we are your tree care support team.
We pride ourselves on providing high quality work with competitive pricing. You can rest assured that the job will be done right with our professional tree service, Geddie Tree Service, LLC!
These are some of the services we offer:
Tree takedown
Storm damage clean-up
CUSTOM TREE TRIMMING
Tree removal ESTIMATES
Tree shaping
Insurance projects
Tree topping
Insect control
TREE DEBRIS REMOVAL
Bug spraying (pine trees)
Lot clearing
Debris loading
Debris hauling
Debris removal
Lot clean-up
Stump grinding
Root grinding
Mulching
Bushhogging
*ALWAYS FREE ESTIMATES*
Geddie Tree Service, LLC, provides tree and stump removal services in the Central and Southern Mississippi area. Call us today at 601-498-8690.